We are currently experiencing some minor issues with our phone number. If you are unable to reach us using 0800 358 0085, please phone us on 01202 493 750. We are working to fix this, and apologise for any inconvenience.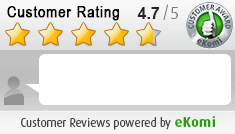 Ordering is easy and delivery is fast, very satisfied with the whole service
Browse By Category
What is an Automated External Defibrillator (AED)?
24/06/2014
An AED is a portable electronic device that automatically diagnoses and treats cardiac arrest through electrical therapy. Having a lifesaving defibrillator on site is essential for ensuring that quick action is taken in the event of a sudden cardiac arrest (SCA). Many instances occur suddenly and without any prior indication that the victim was at risk. SCA can happen to anyone whether old, young, healthy, overweight, a smoker or not. A victim of SCA is three times more likely to survive if they receive early defibrillation and for every minute that passes chances of survival reduce by 7-10%. It is crucial that CPR and defibrillation are applied as soon as possible following a cardiac arrest and for this reason AED's are becoming increasingly common in public places, schools and workplaces.
Some of our
happy customers:
Please enter a message into the chat box at the bottom right of your screen.
If the chat box is not visible please visit our
contact us
page or call
0800 358 0085
during office hours.
You can close this message and continue browsing the site while you chat.
© 2018. CMUK Visual Safety Limited. Registration Number: 03951452. VAT Number: GB 927 4801 12.
United Kingdom
- From your Internet address
- Use precise location