We are currently experiencing some minor issues with our phone number. If you are unable to reach us using 0800 358 0085, please phone us on 01202 493 750. We are working to fix this, and apologise for any inconvenience.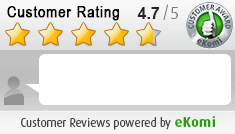 Ordering is easy and delivery is fast, very satisfied with the whole service
Browse By Category
What contents are in a BS8599-1 First Aid Kit?
09/12/2014
In 2012 the British Standards Institute (BSI) introduced BS8599-1. This new piece of guidance recommended a new set of first aid contents for First Aid Kits more suitable for the modern day workplace. The standard also reflects current training protocols and the increased awareness in modern society of the importance of infection control. These changes were deemed necessary as the old HSE Compliant First Aid Kits were introduced 15 years ago in 1997 and were based on legislation dating back 31 years to 1981.
What are the changes?
An increased number of gloves. Not only does this make dealing with multiple incidences easier they are also now nitrile in material making them suitable for users with a latex allergy.
Fewer triangular bandages - these are no longer recommended for the immobilisation of lower limb injuries.
The introduction of microporous tape so that bandages can be secured without the need for dangerous safety pins.
A pair of first aid shears are included so clothing can easily be cut away if it is hampering the efforts of a first aider.
Clinical shock is currently treated in part by keeping casualties warm. For this reason a foil blanket is now part of the basic kit requirements.
A 10 x 10cm burns dressing is included to treat typical workplaces injuries such as those caused by spilling hot drinks.
A resuscitation face shield protects first aiders whilst they carry out mouth-to-mouth resuscitation.
Finger injuries can now be more easily treated by a new smaller dressing.
Travel kits include eyewash recognising the needs of staff travelling away from the workplace who may not have access to clean running water.
Eurekadirect offer a wide variety of BS8599-1 First Aid Kits in a number of case options. With prices as low as £9.75 per kit we offer superb value for money for workplaces looking to comply with the latest guidance.
Ensure you comply with the latest British standards with a range of Workplace Kits
Dust and moisture resistant cases ideal for 'high risk' workplaces
Reinforced Aluminium Cases stand up to the harshest workplace environments
Travel kit is recommended for employees working off site or for keeping in vehicles
Some of our
happy customers:
Please enter a message into the chat box at the bottom right of your screen.
If the chat box is not visible please visit our
contact us
page or call
0800 358 0085
during office hours.
You can close this message and continue browsing the site while you chat.
© 2018. CMUK Visual Safety Limited. Registration Number: 03951452. VAT Number: GB 927 4801 12.
United States
- From your Internet address
- Use precise location