We are currently experiencing some minor issues with our phone number. If you are unable to reach us using 0800 358 0085, please phone us on 01202 493 750. We are working to fix this, and apologise for any inconvenience.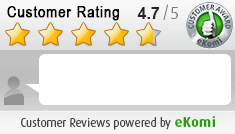 Ordering is easy and delivery is fast, very satisfied with the whole service
Browse By Category
Eureka! Sharps Disposal Kits
Ideal for one-off situations involving the removal of needles and syringes
Equal performance to branded products but at a low cost!
Contains all the items necessary to dispose of sharp objects safely and easily
Plastic forceps and tough vinyl gloves prevent user coming into contact with contaminated needles and syringes and reduce risk of related injuries
Disposal Unit and biohazard bag allow safe disposal of hazardous waste
Disinfectant cleaner ensures area can be sanitised once contaminated objects have been removed
Price List -
To order please specify a quantity. Then click the "Add to Basket" button.
This came in a nice case - easy to open.
20/03/2018
5
out of
5
based on
1
user ratings
Some of our
happy customers:
Please enter a message into the chat box at the bottom right of your screen.
If the chat box is not visible please visit our
contact us
page or call
0800 358 0085
during office hours.
You can close this message and continue browsing the site while you chat.
© 2018. CMUK Visual Safety Limited. Registration Number: 03951452. VAT Number: GB 927 4801 12.
Ashburn
- From your Internet address
- Use precise location